Facilitation & Training Workshops
We provide highly effective training workshops and courses in developing leadership skills, strategic planning, change management and team development.
The Denison Model
Denison Organisational Culture Survey The core diagnostic used in our work, is the acclaimed Denison Organisational Culture Survey.
This powerful tool captures data around 12 factors. The findings are revealed in a debrief which will pinpoint the organisation's Critical Issues.
The resulting action plan prioritises 1 Critical Issue that will optimise the path to World-class Performance. This provides a laser-like focus and allows resources to be deployed with greater conviction.
SCHEDULE A CONSULT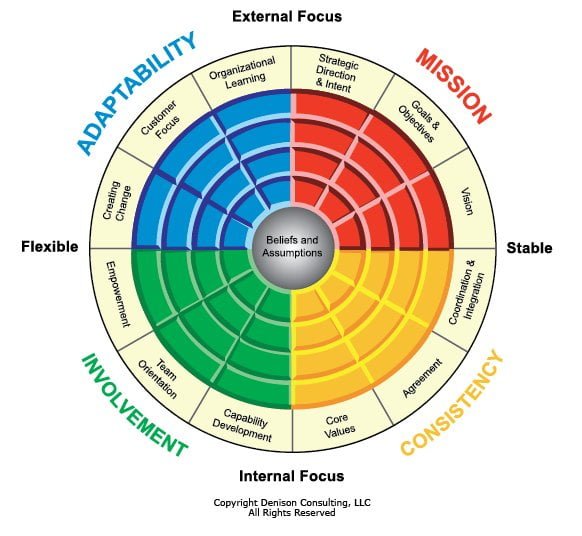 Customised Client Workshops (sample)
Leading Organisational Change – featuring core change management skills and concepts
Leadership skills – featuring the Situational Leadership model
Effective Communication – active listening – using a proven model and techniques
Strategic planning – applying the classic SP framework and cutting edge tools
Operational Planning – Setting and managing operational plans, objectives and actions – strategy into action
Essential Change Management Skills workshop – for change agents and leaders
Effective Supervisors workshop – frontline skills
Leading and managing virtual & remote teams – using the acclaimed TMS profile
Management development workshops (several versions tailored for clients)
Leadership & team development workshops several – using the acclaimed TMS profile
Managing multicultural teams – middle and senior level teams
Process mapping and process improvement – using TQM tools and processes
HR as a business partner – featuring Ulrich's framework and strategies
Management skills for new managers – frontline supervisor/manager program
Performance management – featuring the fundamentals of performance using PMM
Management Forum – a specially crafted CPC solution to address topical issues & challenges
Jacqueline Lane
Chief Corporate Services Officer, ORS Group
"I met Cliff more than seven years ago when we needed someone to help us revitalise our HR function. He was very thorough, professional and shared his extensive expertise freely. The end result was that our HR function was put on track to performing as a true HR business partner fully aligned to the business needs. Cliff has an easy-going, approachable style, and the proven systems and tools he applies are leading-edge, practical and useful. He is particularly adept in precise analysis of culture that supports systems, behaviours, skills and practices to get clarity and direction on achieving desired performance outcomes. We benefitted greatly from his "words of wisdom," world-class tools, case studies and strategies, and his ability to align them to the practical element of our business."
Over 90% of C-suite executives identify culture as crucial to performance, and that improving organizational
culture improves company value. And yet only 15% say their firm's corporate culture is "where it needs to be."
This is where we FOCUS. We have a unique way of bringing your organisation to World-class Performance.
Roadmap to World-Class Performance
One Critical Issue at a Time
MINDSET
CULTURE
FINDINGS
VERIFY
PLAN
REVIEW