Adapted from: Strategy& | Mastering the connection between strategy and culture| David Lancefield
"The goal should be to master the connectivity between strategy and culture. They both should be anchored by capabilities—the "key activities in which you must invest disproportionately and perform distinctively to underpin your theory of competitive advantage," according to author and CEO advisor Roger Martin.
Key capabilities must be supported by management systems and resources.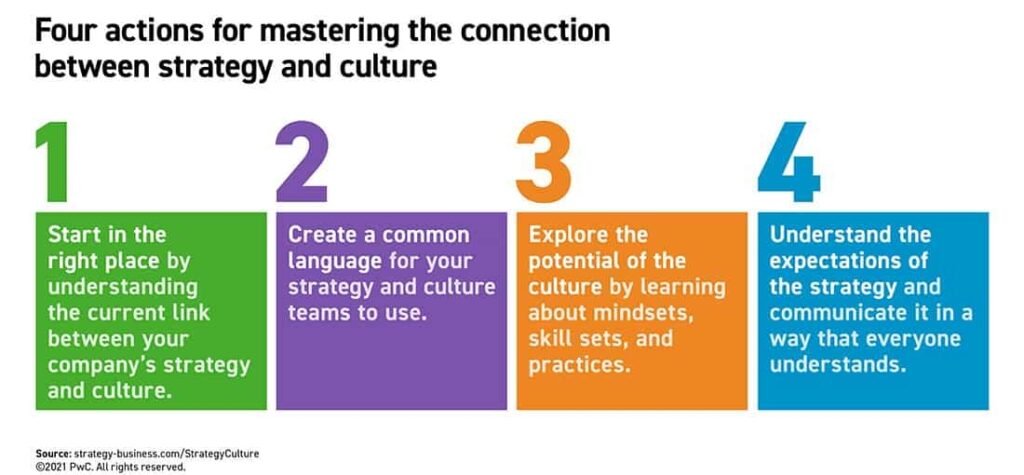 Starting Right
Ideally, you develop strategy and organisational culture together in a connected, integrated approach from the beginning.
If you're taking on a leadership role, ask the following questions:
Do we have the capacity to adopt an integrated approach given what is happening in our business now?
To what extent do they relate to strategy or culture if we are facing difficulties now?
What are the most important decisions we can make to fix the issue, or at least create some momentum?
How material is strategy or culture, and what are the implications of delaying work?
To link strategy and culture, ask yourself:
Who do we need to assemble to drive this work forward, and how well do they represent the skill sets, backgrounds, and constituents in the organisation?
What are the most important terms and concepts, and have we defined and illustrated them?
How much effort are we putting into upskilling people to master the frameworks we've selected to develop strategy and culture?
Strategy and culture
Culture is a multidimensional collection of self-sustaining behaviours, traits, feelings, and beliefs that determine how work gets done. It paints a picture of what an organisation is capable of doing. This informs the development of strategic possibilities and how long it will take to get there. While strategy is a collection of choices about what an organisation needs to do to win, satisfying the needs of customers, employees, and investors. This informs the design of the portfolio of businesses to own and operate.
Exploring Culture Potential
To drive complementarity between strategy and culture, it's important to develop an in-depth understanding of what they need from each other to do their respective jobs well. Understand what people talk about, criticise, admire, remember, and appreciate in your organisation; and capture the stories, tonality, and language as you do.
Consider these questions to help clarify what culture means to your business:
At our best, what have we done, and what have others said about us?
What drives these behaviours and actions?
What sustains the traits and behaviours we want to nurture and evolve?
What are the assumptions that we make about who we are, and how we work, that hold us back?
How can we overcome inertia, laziness, procrastination, and other limiting human traits?
Understanding the expectations of the strategy
To evolve the culture and encourage participation, understand the need for a new strategy, as well as the expectations leaders have for what it will deliver. This requires a clear articulation of the potential opportunities to pursue as well as the problems facing the organisation.
As you develop strategy, consider these questions:
What are the compelling reasons for making a change in the direction of the organisation, and why make it now? What might happen if we continued with our current trajectory?
What weak signals of change in customer sentiment, competitor activity, or internal performance should people be aware of?
What are the most exciting opportunities ahead of us, and why is this organisation best placed to pursue them?
What are our differentiated capabilities, and what are we doing to invest in them?
New hybrid work practices and strategic decision-making in complex and uncertain environments represent an opportunity to master the connection between strategy and culture. To address the opportunity effectively, start by  creating a common language; learning about the mindset, skill set, and practices of the aspects you are less familiar with; and creating a set of expectations that everyone understands.
It's absolutely crucial to establish a strategy that will direct your organisations capabilities, systems and resources to deliver the planned outcomes. The consistent performance this effort produces helps to  evolve a conducive culture.