Look forward to speaking with you.
This is ZOOM meeting and here's the link @ https://zoom.us/j/2830010120
Just click on this link to get the meeting started.
The meeting link is also in the email that has been sent out.
If you need to, you can use the Cancel/Reschedule link in that email to set up another time.
Your appointment has been locked into my calendar.
The system will send out an email reminder and an SMS notification an hour before we're due to meet.
Speak soon.
Best Regards,
Cliff Chalon
Learn How To Build A Sustainable Culture Of High Performance
From The Global Authority On World-Class Performance Through People And Culture!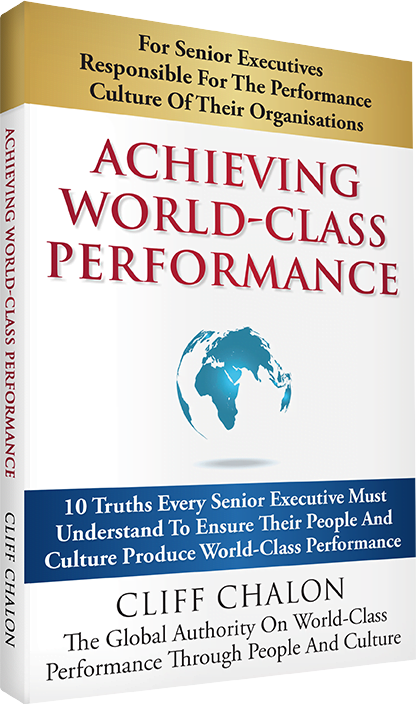 True Potential

Leadership teams often spend millions of dollars trying to improve their people and culture and yet still experience a "drag" that prevents individuals from reaching their true potential within the wider organisation. This is due to a lack of cohesion in the company culture, and yet many senior executives settle for incremental improvements in results because they don't know how to facilitate an increase in performance.

Get Back On Track

So, whether you have hit a plateau as a business, have a leadership team that has great individuals but isn't quite firing on all cylinders, or you have a distinct lack of cohesion between departments or staff members, you can use the scientific method to get back on track to high-performance.
High Performing Teams

Using a meticulously developed scientific method, Cliff combines empirical results with his years of experience to craft bespoke cultural directives that facilitate improvements in teamwork, employee job satisfaction, staff retention and most importantly, he helps create high-performing teams who in turn drive productivity and revenues for companies.

Get Started

This is an opportunity for you to benefit from Cliff's expertise as a world-class authority on performance through people and culture. A complimentary session with Cliff will get you started with what you'll need to cultivate high-performing teams who will in turn drive productivity and revenues.