The Chalon Performance Consulting (CPC) approach is underpinned by the simple premise; that all organisations are tasked with achieving a desired level of Performance. Individuals, teams and scarce resources are brought together and engaged in activity to produce required outcomes.
The type of performance outcomes for any particular organisation will depend on the type of business, and the products, services and locations in which it operates. What is common to all is that desired performance levels must be planned, managed and achieved.
We have learned from many years of practice and experience with myriad organisations in different locations, is that some things don't change when it comes to delivering performance. It is this fact that led to the development of the CPC Framework. These are the core elements which must be set up, developed and utilised effectively to produce desired performance.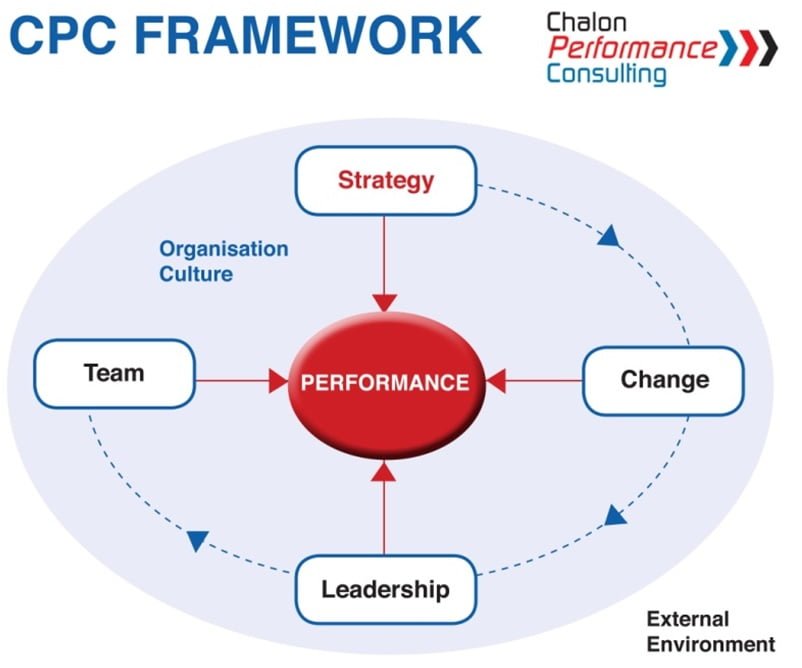 The CPC Difference
Our key point of difference is the way in which we apply the powerful CPC Framework. We maximise the use of proven methodologies, concepts and tools to diagnose an organisation's performance issue/s and provide a timely, purpose-designed solution.
Roadmap to World-Class Performance
One Critical Issue at a Time
The CPC 3-step Workshop Methodology
The following 3 steps ensure consistent application of the CPC Framework above.
Analysis & Diagnosis – We carefully gather and analyse information to ascertain the real performance issue is identified accurately.
Customised Solution Delivery – from our diagnosis we design and provide the customised solution for the performance level desired (PI or PE) by applying the CPC Framework and an empirically proven range of skills, tools and techniques, to address the situation.
Evaluation & Conclusion – a structured and tailored delivery of the solution addresses the needs identified. Our unique review system then evaluates the solution to ensure both transfer and desired performance is achieved. The project typically concludes with real ROI achieved.
A key point to note is that training is not the only solution to performance problems. There are times when the 'system' and other factors may be contributing to the problems. Our approach highlights this and ensures we address the right issues accurately, decisively and promptly.
Performance delivered!
There are many eminent contributors in the field of performance improvement. They each have their own preferences as to the terminology used to describe human performance elements. CPC consultants consistently follow the professional Standards laid down by the International Society for Performance Improvement. This ensures a rigorous compliance with the core elements of the ISPI standards;
R: Focus on Results
S: Take a System view
V: Add Value
P: Establish Partnerships
CPC simply does not take on a project where these standards cannot be adhered to. Furthermore, CPC applies the ISPI standards, in a form that we find practical, useful and powerful. We also remain solution-neutral in dealing with issues and challenges. Our proven diagnostic approach ensures we do not react in knee-jerk style. We solve real talent management issues and challenges. We help our clients to adapt and change, achieve identified outcomes and evolve a sustainable performance culture.
For more information on how this has helped our clients, check out our case studies, or contact us for an obligation free discussion to see how we can help to deliver tangible performance solutions to deal with your organisation's requirements.