The CPC Framework (CPC-F)
The CPC-F depicts the key dimensions as inter-linked and interdependent. They provide the basis for determining whether a company is focused, fully competent and performing in all key dimensions, or there is room for improvement.
The CPC-F may also be used to leverage higher performance levels through what we term, performance enhancement capability. This process ensures that organisations stay at the forefront of their markets and lead the competition. We have empirically tested our framework and proved that these core elements of performance, strategy, change, leadership and team, are crucial to the continued success of all organisations.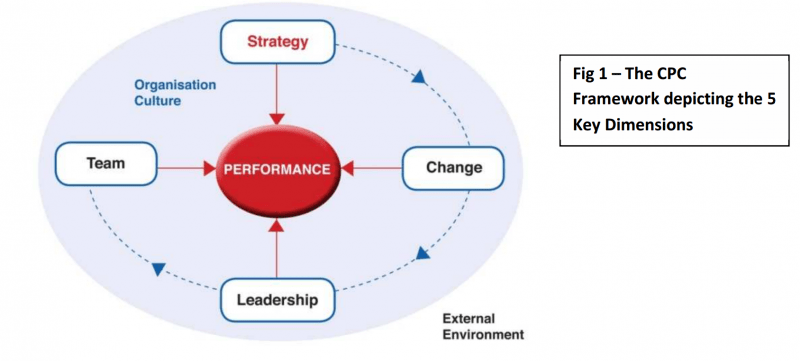 CPC Framework – definition of terms
Simply stated, the path to performance requires competent development and uncompromised practice in these 6 key dimensions. The CPC-F may also be applied as a diagnostic tool to analyse performance issues.
Performance – usually stated as operational systems and processes, objectives and actions. These in turn are interpreted into core processes and KPIs that deliver the required outcomes for the business.
Strategy – is the strategic intent of the organisation, expressed as the vision, mission, core values and key goals. This is vital to shape direction, align systems and galvanise the people within the organisation. Execution of good strategy is vital too. Poor execution has been shown to reduce the value of good strategy by as much as 40%.
Change – is almost always required to shift direction and react to issues and trends as they emerge. An organisation that cannot handle necessary change to capitalise on capabilities and trends is doomed. We know that more than 70% of change efforts fail. Change management and disciplined implementation, monitoring and review are vital.
Leadership – is the chief driver of strategy and change. Leaders must be 'sense-makers' and energisers with the skills and ability to take organisations through tough and demanding times as well as build sustaining cultures. Leadership is often lacking in the core competencies required to set direction and lead teams to achieve required outcomes.
Team – talent is everywhere but it must be carefully and sensibly deployed and nurtured to get the best results. The individuals and teams that do the work in organisations must be carefully managed to deliver sustained performance. Talent management is a foremost challenge for most organisations, globally.
Culture – is all important! It is the DNA of any organisation. It depicts how an organisations behaviours and practices are able to sustain performance. Therefore it must carefully monitored and assessed and specific actions taken to address any issues. In many cases the best place to start any improvement initiatives is to take a snapshot of the prevailing culture. As Edgar Schein warns, 'if you don't manage your culture it will manage you".
For more information on how this has helped our clients, check out our case studies, or contact us for an obligation free discussion to see how we can help to deliver tangible performance solutions to deal with your organisation's requirements.